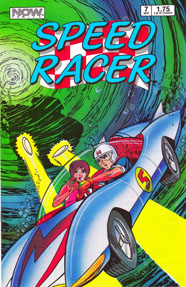 issue #1: "Death of a Racer"
Origin of Speed Racer. Rex dies in an unexplained accident. Speed races the Mach 5 to pay loans. Proves his racing ability.

issue #2: "Drive Against Drugs"
Sparky joins Speed and Trixie visits from college. Racer-X registers for race.

issue #3: The race is on. Speed saves the life of a competitor and Racer-X wins the race.

issue #4: Home Coming" part 1
Halloween Special. Speed attends a demolition derby where the driver of a vehicle, marked with a V, is seriously injured.
issue #5: "Dead Heat
The race continues in part 2. The V-Team is run by Mr.Corona and Dr. Zydead. This issue has Witch Doctors and the Walking Dead.
issue #6: "Hollywood Challenge"
Trixie puts college on hold so she can be part of the Go-Team. Hollywood actor Paul Truman competes in the race.
issue #7: "The Captain of Atlantis"
Trixie and Speed are forced off the road and into the ocean. They have been kidnapped and held prisoner on a stealth submarine.
issue#8:"The Haunted Engine"
Speed and Go-Team have moved to San Francisco. Speed races
against the G.R.X., The fastest engine in the World.
issue #9: Part 2
In order to drive the G.R.X. one uses a V-Gas. .Racer-X warns Speed not to use the V-Gas because it will make him afraid.
issue#10: "Trouble in Paradise"
Speed and the Go-Team race in Kauai. Speed reveals to Trixie his belief that Rex is alive. Masked race driver Shirley Malloy competes.
issue#11: "Going Down"
Trixie and Sparky are on a transport plane taking the Mach 5 to Japan.
In an emergency bail out, before the plane crashes, they parachute to safety and become stranded on an island.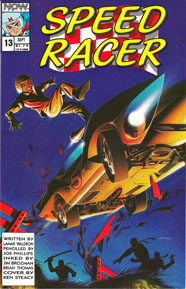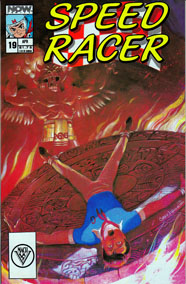 issue #12: Anniversary Issue
"Ninja Nightmare" part 1
Speed tells his parents Rex is alive
This race takes place in Japan. There have been mysterious accidents durning the trials. Pops is attack by Ninjas.
issue #13: part 2
Trained Ninja's of the Yakora Company are out to destroy their competition, Tetsui Industries, the sponser of Speed and Mach 5.
issue #14:"Let Sleeping Dragons.."
The Great Wall Restoration Rally Speed is captured and held at the Dragon Palace.
issue #15:"Walk Like an Egyptian"
Trixie is mistaken as an Egyptian Princess.
issue #16: "The Return of the Acrobatic Team-Save the Elephants"
The Actrobatic Team vows to win and blame Speed for the injury of one of their drivers.
issue #17: "Nightmare Forest"
Speed and Trixie are kidnapped by Dr. Ackerman.A moeren creator of a Frankenstien driver. Plus 6 page Astro Boy story.
issue #18: "Return of the Ripper"
In London for the Stonehenge rally Speed and Trixie try to solve a murder. Trixie becomes the bait.
issue #19: "Secret of the Lost Incas"
Speed ends up in the Peruvian Jungle after his cargo plane crashes. He is in a race for his life.