1. "Shadow of the Condor"
Race takes on a World War i flying ace in an ariel battle.
2. "Calcuta Adventure"
How Hadji joined the Quest family.
3." Werewolf of the Timberland"
Jonny and Hadji lose their way while on a hike in the Canadain woods and come face to face with the mysterious menace of the werewolf.
1. "The Sands of Khasa Tahid"
2. " Enter Race Bannon"
Heart breaking story of the death of Jonny's mother. Including a flash back revealing how Race Bannon joined Dr. Quest and his son.
3. "Guns for the Laughing Man"
Jonny, Dr Quest, Race, and Hadji are called to South America to stop the flow of guns to the revolutionary cadre.
4."Marley Frost is Here to Stay"
A movie [roducer hires Dr Quest and Race to find out who iis sabataging his film about the discovery of a living Triceratops!
5."Jade Incorporated"When Jesebel Jade summons Race Bannon for help, Jonny and Hadji rush to her aid in his absence. They come face to face with Dr Zin!
6. "Philosopher's Stone"
After the discovery of the "Philosopher's Stone" the Quest Team, Dr Zin, and other government agents race to the North Pole inorder to unlock the artifacts knownledge.
7. " The Lady in Gray"
Dr Zin invents a time machine and travels to the past. Find out the identy of "The Lady in Gray".
8."the Curse of X-7
Jonny and Hadji grow to manhood only to discover the curse of X-7 lasts a lifetime.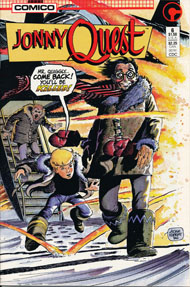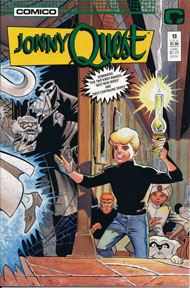 9. "A Fire in Green Meadows"
When the Sun goes down in a small town, panthers and mysterious men in black prowl the woods.
10.Winter of Discontent"
While on a visit to The British Isles Jonny and Hadji are transported back to the court of King Richard III
11."Dog Days"
Bandit is kidnapped! Jonny and Hadji attempt to track him down, but this is one dog that can take care of himself.
12. "Buried Treasure"
A young girl is mysteriously kidnapped. The Quest Team travels to the mountains to rescue her.
i13."Things That Go Bump in the Night"
While exploring an old house believed to be haunted, Jonny and the rest of the team encounter "Things that go Bump in the Night.